Day One
I have been dreaming about this day for what feels like forever and finally it has come. On my quest for the world's best guitars I have patiently been saving some money and time to get over to the Island to see and play what I believe could be some of the greatest guitars in the world. First, the sea.
I love these mornings. It's the middle of winter and the rain just seems to dance on your windshield as you drive. You catch enough of your breath as to assure you that it is cold outside but nothing to be shy of. My journey today is of significant importance and my anticipation grows for what could be an amazing adventure.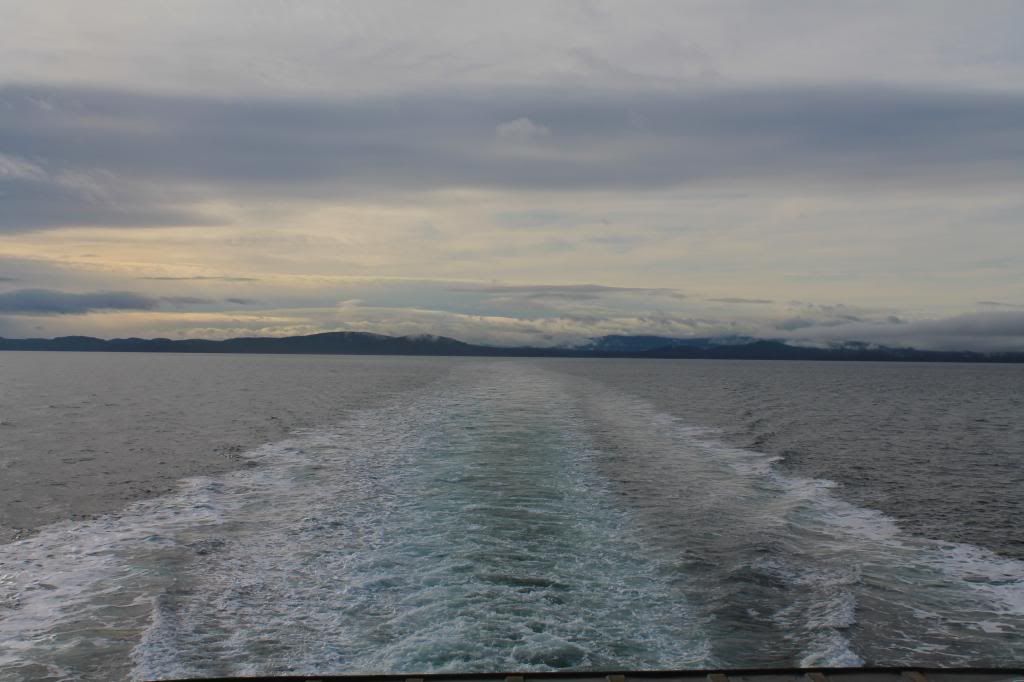 The crashing waves and bellowing hum of the "Spirit of Vancouver Island" reminded me about how complex this land really is. Even on a cold winter morning you will find beauty in every crack of light that grazes the horizon. I embrace the view and start dreaming about guitars.
I have to make one thing crystal clear. I LOVE guitars. I am one of those guys who gets to laze around and play guitar for a living. With that being said I have been playing high-end luthier-built guitars for quite some time and over the years I have become addicted to acoustic tone. Whether it be the grande finesse of a Linda Manzer guitar or the rough, gritty bark from an old salvaged wreck. There is tone in everything your fingers touch and I have become more and more aware of what I value from my personal experiences.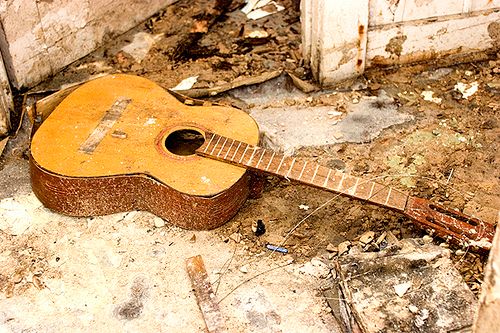 As most do I started off playing on manufactured guitars like Samik, Ovation, Taylor, Martin, and Larrivee that were all commonly available on the market new or used. Then I moved into the Huss and Dalton, Santa Cruz, Bourgeois, Collings, Langejans, Northwood, Charis, Froggy Bottom and many more. These guitars were extremely rare in the Vancouver market but being a full-time player I would take any opportunity I could find to play any guitars I could. I fell in love with the these guitars and was sure that they had to be some of the greatest guitars in the world. Then came the Robert, Manzer, Laskin, Dunn, Roch and many others which completely changed my perspective of fine craftsmanship. Builders like these are not just luthiers; they are exquisite craftsman with 30-40 years of luthiery behind them.
So, I wanted to meet all these unbelievable craftsman as well as the young and upcoming luthiers and help them build more guitars by representing them for all of Canada. Local luthiers John David Scott, Warren Murfitt, Marcus Dominelli, Dylan Rovere, John Mcquarrie, Ed Bond, Michael Dunn, Roch and Uriah Schneider, and Mikhail Robert have blown me away with the quality and tone of their guitars and made me realize that I shouldn't want to represent American manufactured guitars because the local luthiers here in BC are crafting guitars of unbelievable brilliance right out of our ravishing coastline.
They are unlike any other guitars in the world and are very special. Locally sourced woods, bushed luthiers, life on the island: all these factors play a role in crafting a fine instrument as opposed to a well-oiled machine or outsourced labour and parts from China. Knowledge is power and I felt enlightened.
The "Spirit of Vancouver" slowly docks in Sidney and my excitement grows because my first meeting is with someone very special to me.[separator][/separator]
Mikhail Robert, or, as friends know him, Misha. This man is not just a luthier but an exquisite craftsman. Misha knows more about building classical guitars then most surgeons do the body. His knowledge and understanding of luthiery is incredible. I have been anticipating a new guitar from Misha for quite some time now and it's this guitar that made me pack my bags and head over to the island on short notice. Misha wanted me to come and give it a play.
First, a bit about Misha and his work. Every inch of his guitars are hand-made from the most premium woods available on the planet. When Misha builds he has incredible patience and makes every move with the sole pursuit of tone in his mind. This man has an incredible ear which allows him to find the exact woods needed to shape his instrument. It is common to see Misha tapping through 300 pieces of Master grade Italian Spruce before he finds the one that will work best for his guitar. Nothing is rushed and every aspect of the design and materials are built with extreme attention to detail. For example Misha strings up all his guitars in the white without the french polish and plays them for a couple months to wake up the woods for the arrival of the finish. I had the pleasure of playing one of his instruments in the white on my quest. What a treat!!!!!!!
I have never been more inspired to just let loose and play any instrument but this fine lady needed to be treated with the upmost respect. What I would do for one night alone with
this guitar! This is the finest classical instrument that I have ever laid my hands on and it's not even finished. To say I am blown away is not true: I am mesmerized. Misha knows this guitar is very special and claims that it his finest work to date. I have no doubt that this is true. The problem is HE WANTS TO KEEP IT for himself!
A world class classical guitar of unlimited tonal possibilities was just shattered from my dreams, but a solid relationship was born and Misha hopes to build one for me soon.
He lets me play his own personal instrument that he crafted two years ago. Another supremo guitar. This guitar is absolutely outstanding.
Unbelievable Master Grade Brazilian Rosewood Spears

Just maybe when he has finished building the new guitar he will change his mind and just continue to play his other. That would be a dream come true. I want this guitar like a teenager shopping for his dream car.
After a delicious home-made lunch and a few hours of guitar talk I realize that this experience will be unforgettable and I myself have learned a tremendous amount about traditional guitar design and the weight of a fine craftsman's work.[separator][/separator]
It is now time to head back to the car and drive over the bridge to meet Robert Anderson.

What a fine shop Anderson has indeed: there is lots of natural light and a ton of character. I can easily picture myself here with the sun in my face plucking the strings on these deadly guitars. Robert Anderson is a world-class luthier who focuses on the steel string side of the business. With that being said Robert has only a couple guitars available and the rest of his inventory has already been purchased or ordered. This man's work is absolutely flawless: impeccable craftsmanship with incredible grades of wood. I have the chance to play a few of his guitars and they are gorgeous. Very well-balanced with a unique tone unlike any other instruments in the world. Robert and I discuss guitars in the future and I lose track of time.
I'm not the best with time-management and am in no hurry on these visits. I take my time and do my best to get to know the builder as well as their current projects and inspirations. With that being said my next appointment was supposed to be at 3:00-4:00 with Marcus Dominelli but it is almost 6:00 already. Marcus didn't mind me barging in on his Saturday night and for that I am very grateful.[separator][/separator]
Ohhhhhhhhh Dominelli. Judging by these guitars I believe this is the type of man who can turn water into wine. I didn't know what to expect from this busy island luthier but Marcus exceeds all expectations. Marcus crafts unbelievable classical guitars in his home overlooking the Juan De Fuca straight. Each has a voice that fills the room like a church choir. The sustain and harmonic overtones on his instruments are unreal and really just make me want to play. "Where have you been all my life" is what I find myself thinking as I dig into a Cedar Top traditional that immediately begins to purr.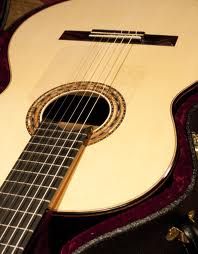 Within seconds I feel a similar level of enlightment as prehistoric man discovering the wheel. Dominelli's guitars are voiced to take over the world one audience at a time. Do not underestimate the raw power of these guitars because they will completely change your perspective of what is possible from a musical instrument. The only problem is that Marcus only has one guitar not spoken for and someone has already inquired to purchase it. He is also currently building a non-traditional double-top that hopefully I can pick up before anyone else gets their hands on it. Marcus then goes into great detail about the soundboard on his double-top and uses a bright light to show me the Novex kidneys.
I am very happy that my final appointment of the day is here with Marcus because I leave with an overwhelming WOW effect. It blows my mind that these luthiers are crafting exquisite guitars right here in B.C. and they are not been represented locally. Most of their instruments are been sold to Europeans and Americans who know the quality of British Columbia's coastal luthiers. This will end now because I am going to do whatever it takes to get these guitars into Vancouver for all to experience and I hope to own one for myself for concerts to come. My quest is now shifting up further north on the island so I hop in my guitar-mobile and head up to Ladysmith to spend the night there. Tomorrow I have plans to visit Steve Heizer, Douglass Scott and Roch Schneider.
The tale continues under Vancouver Island Luthiers Day Two